Product Search Information News: Partner and Seal
Accessories
Similar Products
Have you seen ... ?

Gefüllte Monofil Silosäcke mit Edelstahldrilldraht
Weight: 11.5 kg
Customer who bought this product also bought:
Product Details
Art.No.:
6018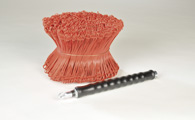 No ratings.
Ready for shipping
Tags
[!] Price Alert
We are happy to inform you about a price change of this product respectively when it hits the price you want to purchase.
Write Product Review
Current product

0.84 inkl. MwSt | 0,11 €/inkl. MwSt