Product Search Information News: Partner and Seal
Product Details
Gefüllte Monofil Silosäcke mit Edelstahldrilldraht
Art.No.:
6012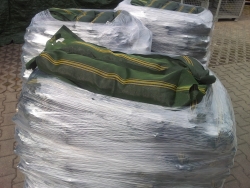 Gefüllte Monofil Silosäcke
No ratings.
Ready for shipping
Gefüllte Monofil Silosäcke mit Edelstahldrilldraht
Silosäcke GEFÜLLT - Wir liefern mit 4-8 Rundkies ohne Feinanteilen (im Gegensatz zu 8-16 Kies bessere Auflage sowie Sackschonender) gefüllte Monofil Silosäcke. Die Säcke eignen sich für Abdeckung für Silos etc.. Sie können bis zu 10 Jahre im Freien lagern. Einsatz ist nicht für Hochwasserschutz bestimmt ! Säcke haben im Fussteil ein integriertes Griffteil. Wir füllen die Säcke ca. 3/4 voll, damit wird erreicht das die Auflagefläche größer ist. Auf der Europalette eingestretcht befinden sich als Standard-Lagerware 80 Säcke bzw. Halbpaletten mit ca. 40 Sack. Lieferung erfolgt bundesweit oder Europaweit auf Wunsch über Nacht per Spedition ! Mindestbestellmenge sind eine Halbpalette. Auf einer Halbpalette liefern wir 40 Sack. Preise FÜR GEFÜLLTE Silosäcke verstehen sich zzgl. Fracht welche automatisch im Warenkorb berechnet wird. Umso mehr Sie bestellen umso günstiger ist die Fracht. Ein Sattelzug mit 2080 Sack d.h. 26 Europaletten ist am günstigsten. Bitte beachten: Wir liefern ausschließlich mit Edelstahldrilldraht, da Standartdrilldraht rostet. Die Säcke sind am Lager und können SOFORT direkt im Onlineshop bestellt werden, Lieferung erfolgt nach Ihrer Terminvorgabe umgehend !
Tags
[!] Price Alert
We are happy to inform you about a price change of this product respectively when it hits the price you want to purchase.
Write Product Review
Current product

Gefüllte Monofil Silosäcke mit Edelstahldrilldraht
0.84 inkl. MwSt | 2,37 €/inkl. MwSt
Gefüllte Monofil Silosäcke