Product Search Information News: Partner and Seal
Have you seen ... ?

Gefüllte Monofil Silosäcke mit Edelstahldrilldraht
Weight: 11.5 kg

worki z piaskiem
Weight: 0.42 kg
Product Details
Gefüllte Vlies Säcke - Hoch UV stabil 30x60 cm
Art.No.:
8229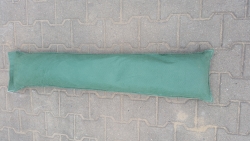 Gefüllte Vliessäcke hoch UV stabil
No ratings.
Ready for shipping
Gefüllte Vlies Säcke - Hoch UV stabil 30x60 cm
Gefüllte Vlies Sandsäcke zeichnen sich durch eine sehr hohe UV Stabilität aus. Sie eigen sich beispielsweise für Befestigung von Photovoltaikanlagen auf Dächer bzw. für Hochwassersäcke , welche sehr lange im Freien gelagert werden müssen. Die Säcke stellen wir selbst exklusive in verschiedenen Abmessungen her. Das Vlies ist extrem stark UV stabilisiert und mit 230 gr/m2 sehr stark. Vlies ist absolut Feuchtigkeitsunempflindlich. Sackpreise gefüllt zzgl MwSt und zuzüglich Fracht. Bitte bei sehr großen Mengen um konkrete Anfrage. Der Sack wird doppelter Polyestergarn-Naht vernäht. Leermaß 30x60 cm Gewicht ca 12,5 kg
Tags
[!] Price Alert
We are happy to inform you about a price change of this product respectively when it hits the price you want to purchase.
Write Product Review
Current product

Gefüllte Vlies Säcke - Hoch UV stabil 30x60 cm
0.84 inkl. MwSt | 14,29 €/inkl. MwSt
Gefüllte Vliessäcke hoch UV stabil